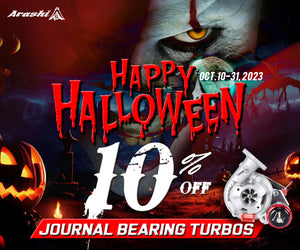 Halloween is coming up!
Boo! 
Halloween is coming up!
Happy Hunting Everyone!


Arashi is offering 10% off on ALL journal bearing turbos to celebrate Halloween.
Join us in the celebration by ordering your turbo now!
Journal bearing turbo orders placed during our Halloween sale get extra gifts!!!
https://arashidynamics.com/pages/product
Featured Product #journalbearingturbo
⏰ Sale Period: 10/10/2023 – 10/31/2023
🛒 Selected Item: journal bearing turbos
💰 Discount: 10% off
🎁 Giveaway: it's a surprise!
#Arashiturbo #Arashidynamics #turbocharged #LimitedTimeONLY #Halloween #Halloweencelebration #Boost #journalbearingturbo
---