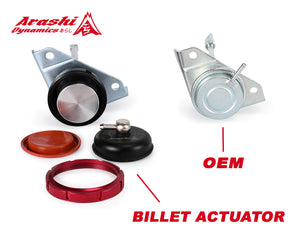 OEM Actuator vs. Billet Actuator
An actuator might seem like a minor part, but it plays a vital role in controlling the boost output of the turbo. It diverts excessive exhaust gasses away and prevent turbine wheel from over-speeding, at the same time regulating compressor wheel speed.
The principal parts in an actuator are the spring and diaphragm. Diaphragm in OEM actuator wears out more easily because steel absorbs more heat than Aluminum. With stock actuator, a complete actuator needs to be replaced when the diaphragm breaks. However, diaphragm can be replaced individually in a billet actuator, which is much more cost effective.
Another advantage of billet actuator is that the springs are interchangeable, meaning the boost setting can be tuned deliberately ranging from 3psi to 26psi, unlike the stock actuator which has only fixed boost level set at the factory.
The billet actuators made by Arashi are designed to be more durable and reliable replacements, while providing faster response and holding steadier boost levels especially in the top end.
---