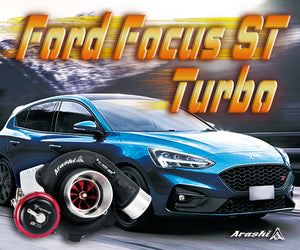 NEW PRODUCT RELEASE –Ford Focus ST Turbo
Introducing Arashi drop-in upgraded turbocharger set for Ford Focus ST 2.0L Ecoboost. Featuring a Stainless Steel turbo outlet to down-pipe adapter and a larger pipe manifold for greater air-flow. Red compressor in option ranges from 45.6 – 49.7mm assembled with .64 A/R turbine housing, you may choose turbo size according to your engine configuration, producing the most power possible for your Focus ST.
Bolt-on turbo fits in the stock location and it is internally wastegated. The turbo set fits directly with stock turbo flanged downpipe, stock placement intake pipe, and it is equipped with a 3" inlet compressor in elbow for better airflow at stock location, too.
Brand new steel braided oil feed and coolant lines are included in the turbo set along with new bolts and screws. Fire sleeve braid heat shield is also provided for oil feed lines for enduring high temperature.
SHOP HERE
---